Click here to see GH semi-custom boots' sizing guide
Street Diamond for basic level
Performance: Single jump
Support rate: 28
big high rebound gold solid wheels (63mm): 80-83A
small high rebound gold solid wheels (58mm): 80-83A
The ultra-light outsoles and heels make the boots lighter so that moves and actions can be more easily achieved, also make the outlook of this model more colorful and beautiful. Besides, our split leather upper and soft velour lining is comfortable so as to resolve the skaters' problem on the ankles which hurt due to constant friction. This new model boots are with almost the same stiffness of Magic, especially made for those who love supportive but softer boots than Maven.

The reinforced Fiber Compound frames with 360° pivot truck

EU toe stops(L): Metric toe stops (Large)
EU toe stops(S): Metric toe stops (Small)
8mm axles
8mm bearings
The reinforced Fiber Compound frames with Standard truck
EN toe stops(L): Imperial toe stops (Large)
EN toe stops(S): Imperial toe stops (Small)
8mm axles
8mm bearings
The reinforced Vanguard frames (360° pivot truck only)
EU toe stops(L): Metric toe stops (Large)

EU toe stops(S): Metric toe stops (Small)

7mm or 8mm ( Titanium alloy axles)

7mm or 8mm bearings

M7 nut (7mm) or M8 nut (8mm)
You can upgrade your trucks with 360 pivots that add flexibility to your edges.360 pivot trucks are also good for those beginners who want to improve faster.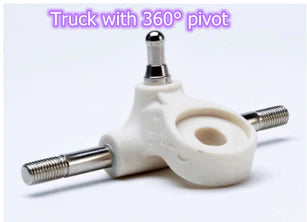 360 pivot truck provides greater maneuverability and is good for edging, dancing and jam skating.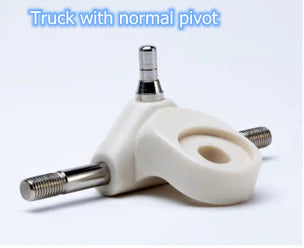 Standard pivot truck provides greater stability,  good for trail skating, and is suggested for beginners. 
Due to much hand made process in production and overloaded orders, we need 10-20 working days to complete your order after receiving your sufficient information and feet's measurements. The skates will reach you in 5-10 days (except those far away countries) after sending.